5 Basement Cleaning and Organization Tips
Do you have a basement? This is definitely one of the most exciting spaces in your house with a lot of potential. However, many property owners experience challenges cleaning, decluttering and organizing their basements. Does this sound familiar? Contrary to what many people think, basement cleaning and organizing is an exercise that can be easily achieved when the right tips and strategies are put in place. In order to have a neat and well-organized basement, the following 5 simple tips will do the magic for you.
Determine The Need For Space
It is important to know in advance what you wish to use your basement for. There are different ways a basement can be utilized i.e. a home office, media/entertainment room, kids playroom or an extra storage area. The most important thing is to dedicate your basement to serve a dedicated role and avoid assigning your basement for multiple uses. Have a clear goal of how you would want your space to look like and used for when it is completed. Many people end up having dirty and disorganized basements because of not having prior knowledge of what they are to be used for.

Declutter Regularly
For your basement to remain neat, you need to declutter it regularly. Do not allow your basement to be the dumping ground for every unwanted items. You should have a regular schedule of clearing out your basement to remove all items you no longer need. The shelves and drawers are the main culprits so you should empty them and go through each and every item. Decluttering provides an excellent opportunity for deep cleaning of shelves and drawers.
Clean Thoroughly and Regularly
Basements easily get dirty and if not cleaned regularly. For this reason, it is critical to have a regular schedule that cleans each and every area of your basement. Some the areas to pay attention to include top of the basement, corners, walls and light fixtures. Ensure to dust all surfaces, clean windows, together with their tracks and blinds. Deep cleaning of basement carpets is a brilliant idea.
Organize Your Space
Once you've cleaned your basement, it is time to get busy organizing your space. One great way of doing this is to allocate zones to store and keep certain items. You can make one area of your basement an office and a play area or entertainment room in another part of the basement. If you have to use your basement for storage, categorize all your items and arrange them accordingly.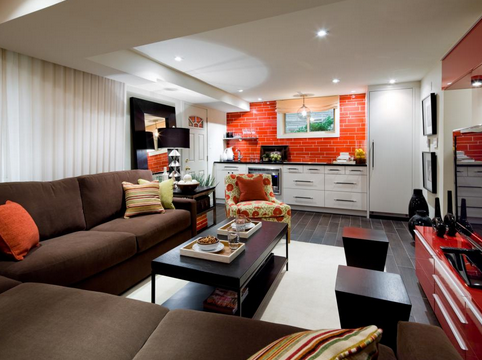 Decorate Your Space
After you are done with cleaning and arranging, it is time to make plans to decorate your basement. The best way to achieve results is to decorate your basement with items you love. When done nicely, you can transform your basement into a nice and lovely space that enchants any visitor who comes to your space. When thoroughly cleaned, organized and decorated, your basement is a unique relaxation space that can turn out to be the best part of your home.