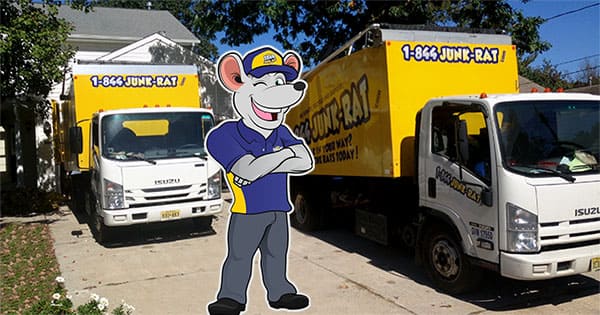 Family-owned and operated local junk pickup in NJ, NY, & CT 1-844-Junk-Rat has been a family-owned business since 1997.  1-844-Junk-Rat's highly-trained, experienced crews are trained to be efficient and considerate. Our trash removal company in NJ is also affiliated with the Minority Business Enterprises.
1-844-Junk-Rats donates? Yes we do!!! 1-844-Junk-Rat donates to different nonprofit organizations and churches.  We will not let furniture, clothing or shoes that can be reused by the less fortunate go to the trash.  We primarily work with churches in the area and with our help they are able to do garage sales then take the proceeds and support missionaries and orphanages overseas!
Before you choosing another junk removal company in NY, NJ, or CT, consider doing business with 1-844-Junk-Rat – a local junk removal company who has served the area for over 20+ years.  We sometimes often overlook the fact that items we are disposing of, such as an old pair of shoes, will put a smile on a kid's face.  Beyond donating physical items, 1-844-Junk-Rat also donates 10% of its net profit to local churches.
Same day junk pickup and trash removal with 1-844-Junk-Rat  If there are enough hours in the day for us to do a same day thorough junk removal and clean out, we're on it! If for any reason we are not able to do same day pickup, we will absolutely accommodate your needs for a next day pickup.
1-844-Junk-Rat has free, no-obligation estimates! Have some rubbish you want to remove, but don't want to spend on an expensive and unsightly roll off dumpster in your front yard?  Call 1-844-Junk-Rat today for a free estimate.  As part of our junk pickup services, we will pick up your junk or debris and dispose of it in an environmentally friendly way. Get your free estimate today!