Do I need a permit to have my deck removed?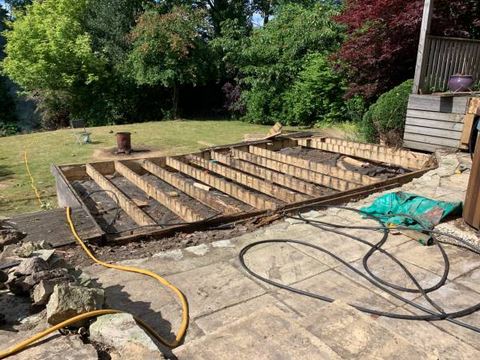 If you're getting ready to hire a junk removal service to tear down your deck, it's important to know whether you need a permit. In general, most cities do not require a permit for a junk removal service such as 1844-Junk-Rat to remove your deck. In addition, 1844-Junk-Rat is a fully licensed and insured crew, meaning you don't need to worry about accidents, either. To check if you need a permit before hiring a junk removal service for your deck removal, simply call your local city or county building code office. In a matter of minutes you'll find out whether a permit is required. Deck removal is one of the easiest projects to hire a crew for because most cities do not require a permit. 1844-Junk-Rat has the experienced crew for your deck removal project. As soon as you call, you can schedule time for our junk removal services team to come in and take your deck away.
When is the best time to remove my deck?
Are you ready to tear down your old deck?
If so, make sure you schedule the best time for deck removal. When scheduling deck removal or junk removal services, keep in mind the following.
1. What's the weather like? Crews need to fully access the deck and rubbish from the project. If a foot of snow fell the night before or you're expecting to get a blizzard or downpour, think about rescheduling.
2. Are you ready to put up your new deck? Once junk removal service crews from 1844-Junk-Rat arrive, they'll take care of deck removal. Be ready with a plan for when the old deck is gone after the 1844-Junk-Rat team leaves.
3. Are there special instructions? Junk removal service crews need to safely access the area. Make sure they can. If you know they won't be able to because of special circumstances, call 1844-Junk-Rat and reschedule for another time.