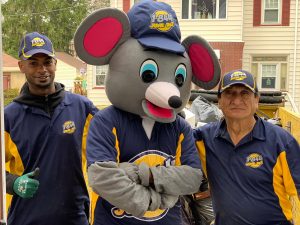 Residential & Commercial clean outs,
Junk and Rubbish Removal Services in Alaska.
1-888-508-3964
At Junk-Rat's – junk and rubbish removal in Alaska is made easy… because we do all of the work!
Do you have a clean out project that could use a little help? Are you located in Alaska? If so, then Junk-Rat's is here to manage all of your junk removal needs. Patient staff is always just a phone call away to speak with you about the various services we offer as well as offering you an accurate quote for your Alaska based clean out project. No amount of junk is too big, and no job is too small for the dependable waste removal and disposal professionals from Junk-Rat's. Unlike other companies, we handle all of the heavy lifting and even clean up after all of your junk have been loaded. We make sure to separate items that can be recycled or donated in order to support green business practices that support the environment. Our rates are much lower than the average standard making our services perfect for both commercial and residential clients.
Junk-Rat's vs Disposal Bins
In fact we are similar to a disposal bin or dumpster in terms of what we can take as disposal – however we offer you much more value! – We are definitely less expensive and more convenient than renting a dumpster since you don't have to pay for dumpster pick up and drop off fees, no cost of disposal and the inconvenience of having to do all lifting and loading yourself. Nonetheless to say, we don't have any hidden fees and we do ALL the lifting.
JUNK-RAT's

Container service companies

Yes, minimum charge

No minimum, pay one full price

All Labor Included
No labor included
On the spot removal
Take up valuable parking space
We recycle more
Often less recycling
No permit needed
City permit needed to park on Street
Volume based rates
Not Existent
We provide these Services in Alaska:
Junk removal
Trash removal
Attic clean out
Basement clean out
Garage clean out
Waste removal
Furniture removal
Junk pick up
Apartment clean out
Testimony:
Eric Clarke, Anchorage, Alaska
Junk-rat's  is the only company I'll call when I need to complete a Yard Clean Out project because they are simply so dependable. My company takes care of yards in the Anchorage area and has done so for years. Many times the sheer amount of waste is too much for us to take away so I have Junk-rat's on speed dial.
The staff in the office is always highly responsive when we call and work well in accommodating our ever-changing schedules. They offer really good rates which allow me to pass on savings to my clients. Time is money and their crews are always on time without fail. Though we clean up ourselves, they make sure that the yard clean out area is totally spic and span before they leave which add to total customer satisfaction.
Call 1844-Junk-Rat (1-888-508-3964) or