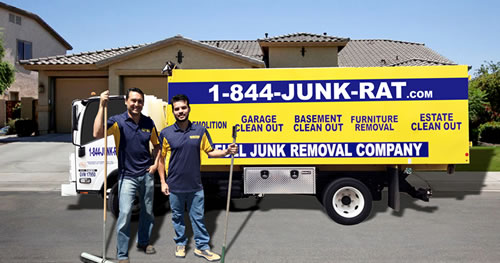 Residential & Commercial Clean outs,
Junk and Rubbish Removal Services in Arizona.
1800-586-5787
At 1844-Junk-Rat – junk and rubbish removal in Arizona is made easy… because we do all of the work!
Clients in Arizona are full of praises for our services for one simple reason; 1844-Junk-Rat.com has the best prices paired with the most available services in the whole Arizona area. Basement clean outs are a breeze with our skilled haulers handling all the heavy work. Offices that need mass trash removal rejoice when we show up at their door since we handle all the details such as recycling, dump fees and after removal clean out. Does spring time mean mass cleaning and piles of junk and trash in your yard, that's no problem for us here at 1844-Junk-Rat.com, after all we are the junk people. When you call our office, you will be greeted with a patient customer service agent who will get the details of your project and give you a quote before setting up your appointment. We are available on short notice for those last minute garage clean out, yard clean out or any junk removal jobs that can pop up after an unexpected weekend project leaves you with piles of leftovers that need to be thrown away.
1844-Junk-Rat vs Disposal Bins
In fact we are similar to a disposal bin or dumpster in terms of what we can take as disposal – however we offer you much more value! – We are definitely less expensive and more convenient than renting a dumpster since you don't have to pay for dumpster pick up and drop off fees, no cost of disposal and the inconvenience of having to do all lifting and loading yourself. Nonetheless to say, we don't have any hidden fees and we do ALL the lifting.
1-844-JUNK-RAT

Container rental services

Yes, minimum charge

No minimum, pay one full price

All Labor Included
No labor included
On the spot removal
Take up valuable parking space
We recycle more
Often less recycling
No permit needed
City permit needed to park on Street
Volume based rates
Not Existent
We provide these Services in Arizona:
Junk removal
Trash removal
Attic clean out
Basement clean out
Garage clean out
Waste removal
Furniture removal
Junk pick up
Apartment clean out
Testimony:
Matt Bryan, Phoenix, Arizona
Any one who knows the area knows that basements are the catch all for just about any type of clutter a family can accumulate.  During our spring cleaning we decided to get rid of all the things that we don't need that have accumulated over the years. We called 1844-Junk-Rat.com to help us with our Basement Clean Out since they advertised that they do all the work.  This was a sticking point for us since we are getting up in age and can't really move heavy items about anymore.
The group that came out from 1844-Junk-Rat.com was really nice the whole time. They communicated well when they were unsure if items we separated were to be hauled away or saved. After taking care of all the junk, they were also kind enough to sweep the basement too! Pricing, really affordable which is important for retirees on a fixed income. They will get all of my business in the future and suggest you send yours their way too!
Call 1844-Junk-Rat (1800-586-5787 ) or
visit our pricing page for details.