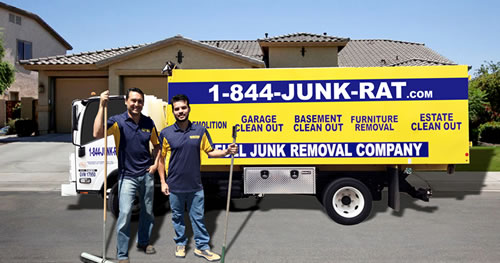 Residential & Commercial Clean outs,
Junk and Rubbish Removal Services in California.
1800-586-5787
At 1844-Junk-Rat – junk and rubbish removal in California is made easy… because we do all of the work!
Managing your junk removal and recycling project in California then you first call should be to use here at 1844-Junk-Rat.com. We offer a range of eco-friendly services to help you manage your yard waste, basement clutter, moving debris and even commercial clean-up projects. We are the junk people so we know just how dispose of just about any type of material. Along with disposal, we offer REO and recycling services for items that are in usable condition. Construction junk is not problem no matter the size, shape or weight and we manage all dumping fees while also handling all the heavy work so you can rest easy.  Our highly trained support staff is always happy to answer your call and work with you to set up a time that will best accommodate your schedule. 1844-Junk-Rat.com is the affordable choice for all of California.
1844-Junk-Rat vs Disposal Bins
In fact we are similar to a disposal bin or dumpster in terms of what we can take as disposal – however we offer you much more value! – We are definitely less expensive and more convenient than renting a dumpster since you don't have to pay for dumpster pick up and drop off fees, no cost of disposal and the inconvenience of having to do all lifting and loading yourself. Nonetheless to say, we don't have any hidden fees and we do ALL the lifting.
1844-Junk-Rat

Container rental services

Yes, minimum charge

No minimum, pay one full price

All Labor Included
No labor included
On the spot removal
Take up valuable parking space
We recycle more
Often less recycling
No permit needed
City permit needed to park on Street
Volume based rates
Not Existent
We provide these Services in California:
Junk removal
Trash removal
Attic clean out
Basement clean out
Garage clean out
Waste removal
Furniture removal
Junk pick up
Apartment clean out
Testimony:
Richard Wolfe, Sacramento, California
The other weekend I was helping my older neighbors with organizing their place and getting rid of some old things that were no longer useful. Once we got about halfway through it, we realized that there was simply too much to leave for the city trash pick-up. I did a quick search for companies in the Sacramento area that handled trash removal and 1-844-JUNK-RAT.com popped up with enough good reviews for me to give them a shot. I called in and was able to get a pick up time for early the next morning and the staff was very polite in understanding the work was for an elderly couple on a fixed income. They also stated that they will handle all the lifting which is great for older folks.
They offered a quote that I almost didn't believe because it was so affordable. When they came out, they were very kind when dealing with the elderly couple and made sure to take away all the junk that was separated into rather disorganized piles. They didn't mind and were also happy to clean up the area after they loaded the truck. 1-844-JUNK-RAT.com is the perfect choice for trash removal jobs on a budget without having to worry about poor service.
Call 1844-Junk-Rat (1800-586-5787 ) or
visit our pricing page for details.