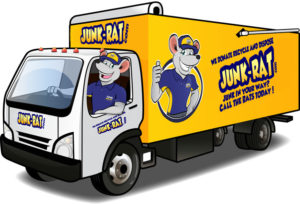 Residential & Commercial clean outs,
Junk and Rubbish Removal Services in Idaho.
1-888-508-3964
At Junk-Rat's – junk and rubbish removal in Idaho is made easy… because we do all of the work!
Calling Junk-Rat's for your junk removal project is good for a number of reasons. When you call for an affordable no obligation quote you don't have to worry about being pressured to make a decision until you are ready. You gain peace of mind in knowing that each of our Junk-Rat's junk removal agents are professionally trained and will respect your space during the entire visit. We handle all the work regardless of the weight or amount of items that need to be removed. Our lines are open all the time to schedule pick-ups that are convenient for you, in many cases we offer priority same day services in Idaho and beyond. On top of all this, we run a eco friendly business model. That means we make sure to donate all usable items to local charities and recycle other materials that qualify prior to processing your junk for disposal.
Junk-Rat's vs Disposal Bins
In fact we are similar to a disposal bin or dumpster in terms of what we can take as disposal – however we offer you much more value! – We are definitely less expensive and more convenient than renting a dumpster since you don't have to pay for dumpster pick up and drop off fees, no cost of disposal and the inconvenience of having to do all lifting and loading yourself. Nonetheless to say, we don't have any hidden fees and we do ALL the lifting.
JUNK-RATS

Container service companies

Yes, minimum charge

No minimum, pay one full price

All Labor Included
No labor included
On the spot removal
Take up valuable parking space
We recycle more
Often less recycling
No permit needed
City permit needed to park on Street
Volume based rates
Not Existent
We provide these Services in Idaho:
Junk removal
Trash removal
Attic clean out
Basement clean out
Garage clean out
Waste removal
Furniture removal
Junk pick up
Apartment clean out
Testimony:
Fred Itango, Boise, Idaho
When I needed help with trash removal I turned to the internet to find a company that had some good reviews. I stumbled upon JUNK-RATS  which had so many which made me a bit skeptical. I decided to give them a try anyway since their rates were listed as being pretty low for their services.
I am so happy I contacted JUNK-RATS for my trash removal job because what they offer is truly amazing service with no hassle at all. My appointment was scheduled over the phone along with a simple quote which matched what the crew told me when they came over. They arrived on time, with a nice looking truck and a crew of removal experts dressed in company uniform making it easy to identify where they were from. The actual work didn't take very long and they were happy to clean up afterwards without me asking them or charging extra. If you need dependable trash removal in the Boise area, 1-844-JUNK-RAT.com is the perfect company for affordable service.
Call Junk-Rat's (1-888-508-3964) or