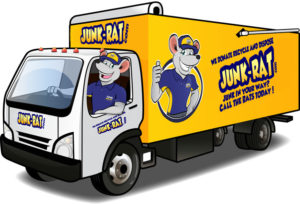 Residential & Commercial clean outs,
Junk and Rubbish Removal Services in Illinois.
1-888-508-3964
At Junk-Rat's – junk and rubbish removal in Illinois is made easy… because we do all of the work!
If you don't think junk removal is a reason to smile and relax, then you haven't worked with Junk-Rat's. All of our highly skilled professionals are courteous, friendly, efficient and respectful of your commercial or residential property.  Of all the junk removal companies in Illinois, Junk-Rat's is top rated for affordable and dependable service. We are happy to work with you on your REO, basement clean out, commercial junk, or yard clean out at a time that works for you. Junk-Rat's handles all of the work involved and cleans up after the truck is loaded to ensure your complete satisfaction. We are the junk people and expertly sort, organize and recycle all of your debris to lessen any negative impact on the local environment. No matter what size junk removal project you may face, we offer affordable rates to get the job done.
Junk-Rat's vs Disposal Bins
In fact we are similar to a disposal bin or dumpster in terms of what we can take as disposal – however we offer you much more value! – We are definitely less expensive and more convenient than renting a dumpster since you don't have to pay for dumpster pick up and drop off fees, no cost of disposal and the inconvenience of having to do all lifting and loading yourself. Nonetheless to say, we don't have any hidden fees and we do ALL the lifting.
JUNK-RATS

Container service companies

Yes, minimum charge

No minimum, pay one full price

All Labor Included
No labor included
On the spot removal
Take up valuable parking space
We recycle more
Often less recycling
No permit needed
City permit needed to park on Street
Volume based rates
Not Existent
We provide these Services in Illinois:
Junk removal
Trash removal
Attic clean out
Basement clean out
Garage clean out
Waste removal
Furniture removal
Junk pick up
Apartment clean out
Testimony:
Alfred Deere, Great Lakes, Illinois
I've had junk hauled away before and I can tell you it isn't always a pleasing experience. Since I was doing a basement clean out job at my home I decided to look for a company that offered something better than average. I was really surprised by 1844-Junk-Rat.com that was recommended to me by a coworker. The phone attendant, supervisor and the clean up crew were highly courteous and professional which isn't always the case with junk removal.
They were happy to answer my questions about what they could haul away before they came out so I didn't have any surprises later. The appointment window was also much shorter that other companies which allowed me to get more done in my day. They keep in touch when they are on their way and after they leave to make sure you are satisfied which says a lot about how they feel about their customers. The most important thing is they took all of the junk from my Basement clean out project without any issue. A little extra service they provided without charging is the total clean up they do after loading the truck. If you want a hassle free day when you remove your waste, I suggest you contract Junk-Rat's instead of looking for bargain basement companies. They offer the lowest prices in the area for just about any sized job.
Call Junk-Rat's (1-888-508-3964) or