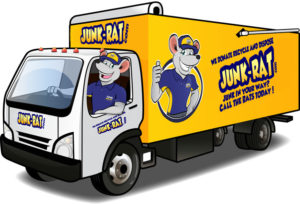 Residential & Commercial clean outs,
Junk and Rubbish Removal Services in Indiana.
1-888-508-3964
At Junk-Rat's – junk and rubbish removal in Indiana is made easy… because we do all of the work!
Junk-Rat's offers junk removal services and hauling services that are both dependable and affordable. We are here to get rid of excess junk, unwanted clutter and organic debris from your home or business in a way that agreeable to the environment. Along with being the most dependable junk removal service in Indiana, we are committed to the local environment which is proved through our complimentary donation and recycling services. Here at Junk-Rat's, we take care of all the heavy lifting so you don't have to. After all, your time is important and shouldn't be spent worrying about getting rid of excess junk. We are here to clean your space, remove your trash and get your junk removal project completed in as short a time as possible. All you have to do is call our office to get a no hassle quote for your project, and then set up a time for our team of professionally trained haulers to come by your location.
Junk-Rats vs Disposal Bins
In fact we are similar to a disposal bin or dumpster in terms of what we can take as disposal – however we offer you much more value! – We are definitely less expensive and more convenient than renting a dumpster since you don't have to pay for dumpster pick up and drop off fees, no cost of disposal and the inconvenience of having to do all lifting and loading yourself. Nonetheless to say, we don't have any hidden fees and we do ALL the lifting.
JUNK-RATS

Container service companies

Yes, minimum charge

No minimum, pay one full price

All Labor Included
No labor included
On the spot removal
Take up valuable parking space
We recycle more
Often less recycling
No permit needed
City permit needed to park on Street
Volume based rates
Not Existent
We provide these Services in Indiana:
Junk removal
Trash removal
Attic clean out
Basement clean out
Garage clean out
Waste removal
Furniture removal
Junk pick up
Apartment clean out
Testimony:
Donald Val, Bloomington, Indiana
I'm not one to leave reviews, but this is the 3rd time using JUNK-RAT'S and I feel their service warrants the mention. Just like the other times they came out for yard clean out removal, the service they offered was above and beyond my expectations for a junk removal service. They really do all the work! Their customer service can serve as a mold for other companies to follow. When you initially call to make an appointment, you are greeted with kindness and professionalism. Even if you are a repeat customer, they make sure to impress you as if you are a first time client.
Their service continues well after the last piece of junk has been loaded in the truck. The crew makes a point to walk the whole area to make sure that they didn't miss anything, or that you didn't forget to ask for something to be added to the load. If you want superior service, you don't have to look any further than Junk-rat's.
Call 1844-Junk-Rat (1-888-508-3964) or