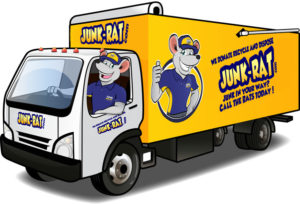 Residential & Commercial clean outs,
Junk and Rubbish Removal Services in Iowa.
1-888-508-5787
At Junk-Rat's – junk and rubbish removal in Iowa is made easy… because we do all of the work!
You have better things to do than spend your precious time getting rid of excess junk. With Junk rat's, our professionally trained staff handles all the heavy lifting and dirty work for you. Instead of lugging boxes, trash, and other items to your front yard or curb, you simply direct our haulers to the items you want removed. Our dependable agents even clean up after the truck is loaded to ensure maximum customer satisfaction. We offer comprehensive value thanks to our affordable rates, all inclusive packages, and nature friendly approach to waste disposal. In Iowa, our company is highly trained and bonded so there is no worry about getting the job done right the first time. Junk-Rat's offers junk removal services for residential and commercial locations so no project is too large to for us to handle. Being committed to the environment, we make sure to recycle all applicable materials prior to disposal.
Junk-Rats vs Disposal Bins
In fact we are similar to a disposal bin or dumpster in terms of what we can take as disposal – however we offer you much more value! – We are definitely less expensive and more convenient than renting a dumpster since you don't have to pay for dumpster pick up and drop off fees, no cost of disposal and the inconvenience of having to do all lifting and loading yourself. Nonetheless to say, we don't have any hidden fees and we do ALL the lifting.
JUNK-RATS

Container service companies

Yes, minimum charge

No minimum, pay one full price

All Labor Included
No labor included
On the spot removal
Take up valuable parking space
We recycle more
Often less recycling
No permit needed
City permit needed to park on Street
Volume based rates
Not Existent
We provide these Services in Iowa:
Junk removal
Trash removal
Attic clean out
Basement clean out
Garage clean out
Waste removal
Furniture removal
Junk pick up
Apartment clean out
Testimony:
Cristina Walsh, Waterloo, Iowa
If you have several items that you need to get rid of, and if they happen to be unusual then JUNK-RAT's is the perfect service for your needs. When I moved out of my place, I had a random assortment of lamps, heaters, refrigerators and parts. They were able to easily organize and haul away the excess without a single hassle or complaint. They didn't bat an eye when they saw all the broken glass and mirrors that have been collecting dust over the years, not to mention the slew of broken ceiling fans. They did all the heavy lifting unlike some places who avoid large objects.
To make matters even better, they were very efficient in their actions and friendly with me and my kids. Though we set up a time for them to come by, they called prior to their arrival to make sure that I was ready for the pick up. This in my book is a great service since I had forgotten about the appointment and wasn't home at the time. They were gracious in their rescheduling and arrived on time on the new date. I will certainly use them for any of my future garage clean out projects.
Call Junk-Rat's (1-888-508-3964) or