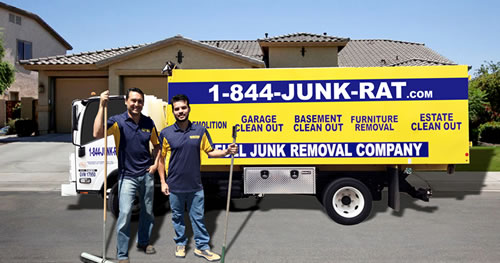 Residential & Commercial clean outs,
Junk and Rubbish Removal Services in Kansas.
1800-586-5787
At 1844-Junk-Rat – junk and rubbish removal in Kansas is made easy… because we do all of the work!
1844-Junk-Rat.com is a leader in the Topeka, Kansas hauling and junk removal industry. Other companies have failed, but we are able to succeed thanks to our attention to detail, affordable rates and comprehensive services offered. We seek to build lasting relationships with each of our residential and commercial clients through superior customer service and above average workmanship. We handle all of the hard work such as heavy lifting, loading, sorting and after haul clean-up. 1844-Junk-Rat.com can take just about any type and any amount of waste you can conjure up.  Old furniture, large appliances, electronics, construction debris, basement clutter, and yard trash is only a small amount of our covered pick-ups. When you call our office, you will be treated with respect, given a quote for your project and then directed to set up a time for our well trained staff to come by. To get started on your cleanup project today, get in touch with our office now.
1844-Junk-Rat vs Disposal Bins
In fact we are similar to a disposal bin or dumpster in terms of what we can take as disposal – however we offer you much more value! – We are definitely less expensive and more convenient than renting a dumpster since you don't have to pay for dumpster pick up and drop off fees, no cost of disposal and the inconvenience of having to do all lifting and loading yourself. Nonetheless to say, we don't have any hidden fees and we do ALL the lifting.
1-844-JUNK-RAT

Container service companies

Yes, minimum charge

No minimum, pay one full price

All Labor Included
No labor included
On the spot removal
Take up valuable parking space
We recycle more
Often less recycling
No permit needed
City permit needed to park on Street
Volume based rates
Not Existent
We provide these Services in Kansas:
Junk removal
Trash removal
Attic clean out
Basement clean out
Garage clean out
Waste removal
Furniture removal
Junk pick up
Apartment clean out
Testimony:
Francis Peterson, Lawrence, Kansas
The office clean out crew from 1844-Junk-Rat.com is nothing short of magicians. As anyone can imagine, any company that has been in one place for a long time is sure to accumulate a lot of clutter. Our office was no different, broken desks, dusty water coolers and huge amounts of paper posed no problem for the company. I guess that's why they say "we are the junk people!"
Moving offices can be stressful, but the considerate clean up crew tackled the job in a organized and efficient way that allowed the job to be completed much sooner than anticipated. They know all about how to dispose of junk in an eco friendly way which is something we didn't think about before, but I'm glad they did! I plan to use them in the future as well as recommend their services to all my professional contacts due to their professional service.
Call 1844-Junk-Rat (1800-586-5787) or