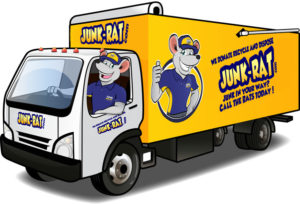 Residential & Commercial clean outs,
Junk and Rubbish Removal Services in Kentucky.
1-888-508-3964
At Junk-Rat's – junk and rubbish removal in Kentucky is made easy… because we do all of the work!
Don't want that clutter taking up space in your commercial or residential space? Well, we do! Junk-Rat's is happy to haul away just about any type of junk so you don't have to. In Kentucky, getting rid of unwanted clutter, horrible smelling trash or plain junk can be both frustrating and daunting without the proper tools. The professionals at Junk-Rat's get rid of the stress by managing all the work for you, even lifting the heavy items. When we arrive at your location, we will sort, organize and load all of your debris so they can be disposed of in an environmentally friendly way.  Working with Junk-Rat's is also easy. When you call our office, we will make sure to set up a time that fits your schedule and your needs. With the economy the way it is, we strive to remain more affordable than most junk removal services without sacrificing quality.
Junk-Rat's vs Disposal Bins
In fact we are similar to a disposal bin or dumpster in terms of what we can take as disposal – however we offer you much more value! – We are definitely less expensive and more convenient than renting a dumpster since you don't have to pay for dumpster pick up and drop off fees, no cost of disposal and the inconvenience of having to do all lifting and loading yourself. Nonetheless to say, we don't have any hidden fees and we do ALL the lifting.
JUNK-RAT'S

Container service companies

Yes, minimum charge

No minimum, pay one full price

All Labor Included
No labor included
On the spot removal
Take up valuable parking space
We recycle more
Often less recycling
No permit needed
City permit needed to park on Street
Volume based rates
Not Existent
We provide these Services in Kentucky:
Junk removal
Trash removal
Attic clean out
Basement clean out
Garage clean out
Waste removal
Furniture removal
Junk pick up
Apartment clean out
Testimony:
Dean Jackson, Henderson, Kentucky
Junk removal may seem like an easy task, but knowing what is allowed to be put in the dump and what needs to go to the recycling center is a big thing. The pride of Henderson is definitely JUNK-RATS. Our company hired them to come by and clean up after a major rework of our offices. We had so much clutter, inoperable machinery and just pure junk that they professionally and courteously hauled away.
Unlike a lot of mainstream commercial companies, they offered their services at an affordable rate without taking away from just how good they are at their jobs. We didn't have to wait for them to arrive since they were already there before the scheduled time, and offered their services with a smile. If you want a company that takes pride in their work, you will do well to hire them.
Call Junk-Rat's (1-888-508-3964) or