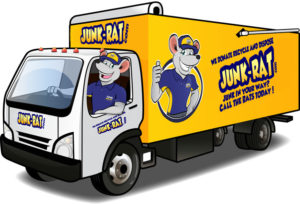 Residential & Commercial clean outs,
Junk and Rubbish Removal Services in Louisiana.
1-888-508-3964
At Junk-Rat's – junk and rubbish removal in Louisiana is made easy… because we do all of the work!
Being thorough is just one part of Junk-Rat's business model. Though affordably priced, there is no dearth of included services for both residential and commercial clients. Our Louisiana office can handle basement clean-outs, REO projects, relocation clean outs, construction debris removal and so much more at a price you can afford.  Every time we come out, we make sure to clean the area after the truck has been loaded so you aren't left with extra mess from your excess clutter. We are the junk people, so being dependable is part of our regular operating procedure. Here at Junk-Rat's, our staff is well trained to ensure your property is respected and free from damage at the end of your project. We also understand the importance of reducing negative effects on the environment, so we make sure to donate and recycle prior to safely disposing of junk removed from your home of office location.
Junk-Rat's vs Disposal Bins
In fact we are similar to a disposal bin or dumpster in terms of what we can take as disposal – however we offer you much more value! – We are definitely less expensive and more convenient than renting a dumpster since you don't have to pay for dumpster pick up and drop off fees, no cost of disposal and the inconvenience of having to do all lifting and loading yourself. Nonetheless to say, we don't have any hidden fees and we do ALL the lifting.
JUNK-RATS

Container service companies

Yes, minimum charge

No minimum, pay one full price

All Labor Included
No labor included
On the spot removal
Take up valuable parking space
We recycle more
Often less recycling
No permit needed
City permit needed to park on Street
Volume based rates
Not Existent
We provide these Services in Louisiana:
Junk removal
Trash removal
Attic clean out
Basement clean out
Garage clean out
Waste removal
Furniture removal
Junk pick up
Apartment clean out
Testimony:
Sookie Stiles, Baton Rouge, Louisiana
I must start out by giving a glowing recommendation for the Baton Rouge branch of JUNK-RAT'S. REO Property Services donation is more than simply hauling your junk and giving it a local charity. The items must be sorted processed and giving in a clean state, which most companies don't offer. The team from JUNK-RAT'S is angels in disguise in my opinion. Not only did they get to our place ahead of schedule, but they were kind and courteous throughout the whole project.
The whole pile took three loads, but they were happy to bag and tag everything while offering a reasonable price for their services. To go the extra mile, they even cleaned up after removing all of the REO items and made sure that I was totally satisfied before they left.
Call Junk-Rat's (1-888-508-3964) or