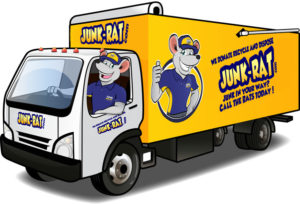 Residential & Commercial clean outs,
Junk and Rubbish Removal Services in Maine.
1-888-508-3964
At Junk-Rat's – junk and rubbish removal in Maine is made easy… because we do all of the work!
The goal of the Maine branch of Junk-Rat's is to surpass your expectations when dealing with our junk removal project. We are certain of your satisfaction thanks to the affordable, yet competitive rates offered in basement cleanouts, construction debris removal, commercial junk removal, yard clean ups, relocation junk removal and so much more. Being a company that is sensitive about the environment, we make sure to recycle all applicable materials and donate locally any items that are still functional. Scheduling with Junk-Rat's is easy since we offer both urgent and weekend pick-up services. To reduce the stress of junk removal, our team handles all lifting, sorting and loading so you can spend your time doing something more productive. We clean up after every job, so your peace of mind is assured. If you are ready to get your junk removal project off the ground, give our offices a call today.
Junk-Rat's vs Disposal Bins
In fact we are similar to a disposal bin or dumpster in terms of what we can take as disposal – however we offer you much more value! – We are definitely less expensive and more convenient than renting a dumpster since you don't have to pay for dumpster pick up and drop off fees, no cost of disposal and the inconvenience of having to do all lifting and loading yourself. Nonetheless to say, we don't have any hidden fees and we do ALL the lifting.
JUNK-RATS

Container service companies

Yes, minimum charge

No minimum, pay one full price

All Labor Included
No labor included
On the spot removal
Take up valuable parking space
We recycle more
Often less recycling
No permit needed
City permit needed to park on Street
Volume based rates
Not Existent
We provide these Services in Maine:
Junk removal
Trash removal
Attic clean out
Basement clean out
Garage clean out
Waste removal
Furniture removal
Junk pick up
Apartment clean out
Testimony:
Marry Fletcher, Auburn, Maine
My husband and I wanted to extend our kitchen area and build a deck off the rear of our home. While planning, shopping and organizing we never thought about how we were going to go about breaking down the walls of our home without creating more work for ourselves. After a bit of research online regarding demo teams in the Auburn area, we ran across JUNK-RATS.
The great thing about the company is not only do they offer demolition services, but they also offer recycling for all of the materials that result from the demolition. The company was able to come out in a short time to give us a fair estimate of the time and cost involved in the project without pressuring us to make a choice on the spot. We did choose their services and was very pleased at the professionalism and dedication they put into our demolition project.
Call Junk-Rat's (1-888-508-3964) or