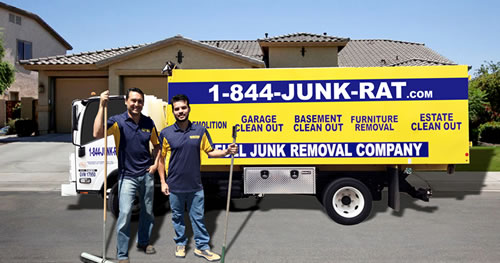 Residential & Commercial clean outs,
Junk and Rubbish Removal Services in Maryland.
1800-586-5787
At 1844-Junk-Rat – junk and rubbish removal in Maryland is made easy… because we do all of the work!
Being a resident of Maryland can bring great benefits such as being in the service area of 1844-Junk-Rat.com. Like so many other cities, the housing slowdown has left many homes distressed or owned by the bank. If you are a realtor or new owner of one of these properties, call us to help you with your clean up and junk haul efforts. We are the junk people and ridding your premises of unwanted junk, furniture, and appliances is our specialty. Our skilled removal agents take care of all the heavy lifting so you can focus on getting your property back in shape. Scheduling an appointment is as simple as placing a call to the 1844-Junk-Rat.com offices and arranging a time for our trucks to stop by. We believe in reducing the negative impact of waste disposal on the environment which is why we handle recycling and donation all at no extra cost.
1844-Junk-Rat vs Disposal Bins
In fact we are similar to a disposal bin or dumpster in terms of what we can take as disposal – however we offer you much more value! – We are definitely less expensive and more convenient than renting a dumpster since you don't have to pay for dumpster pick up and drop off fees, no cost of disposal and the inconvenience of having to do all lifting and loading yourself. Nonetheless to say, we don't have any hidden fees and we do ALL the lifting.
1-844-JUNK-RAT

Container service companies

Yes, minimum charge

No minimum, pay one full price

All Labor Included
No labor included
On the spot removal
Take up valuable parking space
We recycle more
Often less recycling
No permit needed
City permit needed to park on Street
Volume based rates
Not Existent
We provide these Services in Maryland:
Junk removal
Trash removal
Attic clean out
Basement clean out
Garage clean out
Waste removal
Furniture removal
Junk pick up
Apartment clean out
Testimony:
Marina Rahman, White Flint, Maryland
My mortgage brokerage recently upgraded all of our equipment after many years of using outdated systems. While this was great for the employees, we now had to figure out how to rid ourselves of all the antiquated machinery without harming the environment. I asked around at a couple of the local business in the White Flint area about who to call for E-Waste Disposal to which most had the same reply.
I was told that 1-844-JUNK-RAT.com offers friendly affordable service for electronic disposal that is done in a way that's nature friendly. Granted, I am not the expert on how to get rid of e-waste properly, but the guys over there were happy to let me in on their process so I would have peace of mind. I didn't have to do anything other than call them and set up an appointment; they handled the rest to my satisfaction and delight!
Call 1844-Junk-Rat (1800-586-5787) or