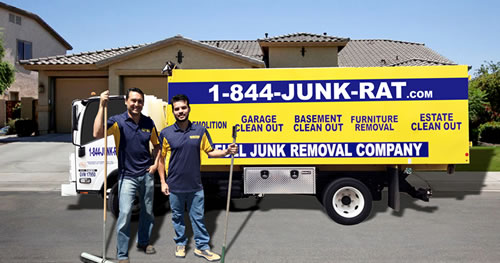 Residential & Commercial clean outs,
Junk and Rubbish Removal Services in Massachusetts.
1800-586-5787
At 1844-Junk-Rat – junk and rubbish removal in Massachusetts is made easy… because we do all of the work!
Thanks to the downturn of the economy, there are a large number of REO locations being prepared for sale. An even larger number of those in Massachusetts are full if unwanted junk that need to be removed before anything else can be done. The experts here at 1844-Junk-Rat.com are able to get rid of old appliances, furniture and any other debris that need to be hauled away. 1844-Junk-Rat.com works under a eco friendly business model that starts with sorting items for donation, then recycling those that can't be used and finally properly disposing of the remaining waste in an approved facility. We value our client's time so we handle all the work. From the moment we arrive, until the moment we leave all you have to do is supervise. We even make a point to clean the area after the truck is loaded to ensure your satisfaction is complete.
1844-Junk-Rat vs Disposal Bins
In fact we are similar to a disposal bin or dumpster in terms of what we can take as disposal – however we offer you much more value! – We are definitely less expensive and more convenient than renting a dumpster since you don't have to pay for dumpster pick up and drop off fees, no cost of disposal and the inconvenience of having to do all lifting and loading yourself. Nonetheless to say, we don't have any hidden fees and we do ALL the lifting.
1-844-JUNK-RAT

Container service companies

Yes, minimum charge

No minimum, pay one full price

All Labor Included
No labor included
On the spot removal
Take up valuable parking space
We recycle more
Often less recycling
No permit needed
City permit needed to park on Street
Volume based rates
Not Existent
We provide these Services in Massachusetts:
Junk removal
Trash removal
Attic clean out
Basement clean out
Garage clean out
Waste removal
Furniture removal
Junk pick up
Apartment clean out
Testimony:
Verona Gonzalez, North Hampton, Massachusetts
When you think of waste removal, often the first thing that comes to mind is large amounts of trash, appliance or general junk. Not many companies offer services for electronic waste disposal or if they do, they charge high recycling fees. On a lark, I decided to do a quick search to see if I could find a reliable E-Waste Removal in my area that was able to handle clean up and recycling of my many electric disposables. That's when I stumbled on a little gem hidden in North Hampton.
1-844-JUNK-RAT.com is a great locally run company that knows how to dispose of e-waste in an environmentally friendly way that complies with state and county regulations. As icing on the cake, they are also priced for those who have a specific budget in mind. I was pleased when they were able to come out according to my schedule and work with me to manage all of my disposal needs.
Call 1844-Junk-Rat (1800-586-5787) or