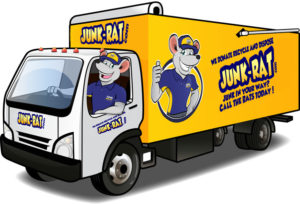 Residential & Commercial clean outs,
Junk and Rubbish Removal Services in Michigan.
1-888-508-3964
At Junk-Rat's – junk and rubbish removal in Michigan is made easy… because we do all of the work!
Junk-Rat's understands the need for rapid service and is dedicated to responding to your clean out request within a short time of receiving the call. We do all the work when we come out such as detaching items from their location, loading heavy items, and riding your space of unwanted junk in an eco friendly way. This allows you to get your space back in shape and back to normal in a short period of time. Our services in Michigan are affordably priced for both residential and commercial clients.  Junk is our specialty and hauling yours away is our pride. Our highly courteous professionals arrive on time and dressed in company uniform to ensure your peace of mind. Respecting your space is second nature and we make sure to clean the haul area after the truck is loaded at no extra charge.
Junk-Rats vs Disposal Bins
In fact we are similar to a disposal bin or dumpster in terms of what we can take as disposal – however we offer you much more value! – We are definitely less expensive and more convenient than renting a dumpster since you don't have to pay for dumpster pick up and drop off fees, no cost of disposal and the inconvenience of having to do all lifting and loading yourself. Nonetheless to say, we don't have any hidden fees and we do ALL the lifting.
JUNK-RATS

Container service companies

Yes, minimum charge

No minimum, pay one full price

All Labor Included
No labor included
On the spot removal
Take up valuable parking space
We recycle more
Often less recycling
No permit needed
City permit needed to park on Street
Volume based rates
Not Existent
We provide these Services in Michigan:
Junk removal
Trash removal
Attic clean out
Basement clean out
Garage clean out
Waste removal
Furniture removal
Junk pick up
Apartment clean out
Testimony:
Sylvia Torres, Benton Harbor, Michigan
Moving from one location to the other is not only stressful, but can also be costly depending on how long you have been in your property. Like most tenants, we had a lot of clean up after packing so we were really keen to find the lowest price move out removal service there was in the area. We tried a few companies only to find that they had space limitations, scheduling problems or simply offered poor service. Needless to say, we wanted to save money, but the budget options out there were less than spectacular.
One of our friends mentioned 1-844-JUNK-RAT.com had done a great job when they needed some of their old items removed so we decided to give them a try. Not only were they easy to contact, but they were able to come out the next day for an estimate and to get started hauling away our junk. The price was affordable and the service was provided with a smile.
Call Junk-Rat's (1-888-508-3964) or