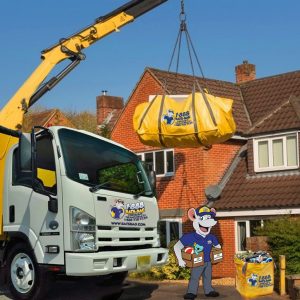 Residential & Commercial clean outs,
Junk and Rubbish Removal Services in Minnesota.
1-888-508-3964
At Junk-Rat's – junk and rubbish removal in Minnesota is made easy… because we do all of the work!
If you need junk removal, basement clean outs, REO services or yard clean up in Minnesota, Junk-Rat's is here to offer affordable hauling services. We handle all the heavy lifting and dirty work so you can focus on other aspects of your project. Getting in touch with is easy, just call our office here at Junk-Rat's and schedule your pick for the most rapid and efficient service in the area. Our company has a range of packages that fit any commercial or residential budget. We work both on job that are inside or outside for the convenience of our clients. All junk disposals are done in a way that has a limited impact on the environment through donation and recycling prior to disposing of the remaining waste. Our trained professionals take pride in their work and are dedicated to leaving your space cleaner than when the project started. Give Junk-Rat's a call today to set up a time that fits your schedule.
Junk-Rat's vs Disposal Bins
In fact we are similar to a disposal bin or dumpster in terms of what we can take as disposal – however we offer you much more value! – We are definitely less expensive and more convenient than renting a dumpster since you don't have to pay for dumpster pick up and drop off fees, no cost of disposal and the inconvenience of having to do all lifting and loading yourself. Nonetheless to say, we don't have any hidden fees and we do ALL the lifting.
JUNK-RATS

Container service companies

Yes, minimum charge

No minimum, pay one full price

All Labor Included
No labor included
On the spot removal
Take up valuable parking space
We recycle more
Often less recycling
No permit needed
City permit needed to park on Street
Volume based rates
Not Existent
We provide these Services in Minnesota:
Junk removal
Trash removal
Attic clean out
Basement clean out
Garage clean out
Waste removal
Furniture removal
Junk pick up
Apartment clean out
Testimony:
Alana Smith, Saint Paul, Minnesota
JUNK-RATS was happy to come out the new site in the housing district to work on our Construction Clean-Up project. Any one who knows about construction, or has at last seen it in progress knows just how much debris, clutter and waste can be created. Even though our company strives to be environmentally friendly, we do leave behind a small footprint that JUNK-RATS is happy to clean up.
Their motto is "we do all the lifting" and they mean it. The rates are affordable and you don't have to worry about larger inane items being rejected from the removal pile. I defiantly plan to use them again on our next housing clean up project. If you want to save a few bucks without sacrificing service, get in touch with them today and tell them I sent you!
Call Junk-Rat's (1-888-508-3964) or