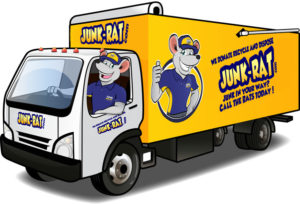 Residential & Commercial clean outs,
Junk and Rubbish Removal Services in Nevada.
1-888-508-3964
At Junk-Rat's – junk and rubbish removal in Nevada is made easy… because we do all of the work!
Are you looking for an affordable yet reliable junk hauling company that also thinks green? Junk-Rat's knows than some wastes are completely recyclable so we make sure to process them prior to final disposal. In some cases, items that you no longer have need for can help a family in need which is why we offer donation services at no extra cost. Our Nevada services are priced affordably enough that both residential and commercial clients. Do you need help with your basement clean out project, yard cleanup, or appliance removal? Call our professional haulers at 1844-Junk-Rat.com to get rid of your unwanted waste in a hassle free way. We manage all the heavy lifting so you don't have to, we even take care of all the disposal cost and clean up after the truck is loaded so you can get back control of your space in as little time possible. 
Junk-Rat's vs Disposal Bins
In fact we are similar to a disposal bin or dumpster in terms of what we can take as disposal – however we offer you much more value! – We are definitely less expensive and more convenient than renting a dumpster since you don't have to pay for dumpster pick up and drop off fees, no cost of disposal and the inconvenience of having to do all lifting and loading yourself. Nonetheless to say, we don't have any hidden fees and we do ALL the lifting.
JUNK-RAT

Container service companies

Yes, minimum charge

No minimum, pay one full price

All Labor Included
No labor included
On the spot removal
Take up valuable parking space
We recycle more
Often less recycling
No permit needed
City permit needed to park on Street
Volume based rates
Not Existent
We provide these Services in Nevada:
Junk removal
Trash removal
Attic clean out
Basement clean out
Garage clean out
Waste removal
Furniture removal
Junk pick up
Apartment clean out
Testimony:
John Mayfield, Carson City, Nevada
Being the business and dealing with a number of different Commercial Junk Removal Services, I can get a pretty good feel for who offers quality junk hauling services. Having gone through several unreliable companies, I happened upon JUNK-RATS and gave them a try. I am glad that my renovation company has finally found a dependable and reliable Commercial Junk Removal partner that we can depend on.
Matt and the entire 1844junkrat.com/ crew are so easy to work with. Everything about their operation is professional, and they are almost always on time (if not they do a great job letting us know), the company is environmentally conscious and priced affordably. In my line of work, it isn't always easy to find an outside company that will treat your clients as if they were their own but these guys do and then some! Not only do they load and haul all the junk, but they also have a policy of cleaning up afterwards which all of my clients prefer.
Call Junk-Rat's (1-888-508-3964) or