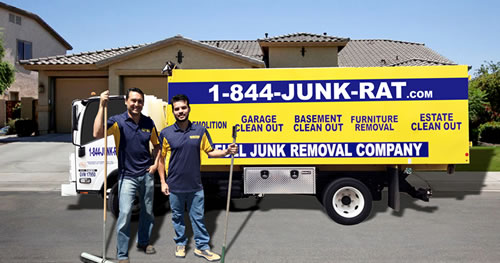 Residential & Commercial clean outs,
Junk and Rubbish Removal Services in New Hampshire.
1800-586-5787
At 1844-Junk-Rat – junk and rubbish removal in New Hampshire is made easy… because we do all of the work!
1844-Junk-Rat.com has been getting rid of unwanted clutter in New Hampshire area for several years. We are able to manage any size project with ease, if you have clutter such as old furniture, appliances, donation items, landscaping debris, or construction material then we are the junk removal company for you. We are the junk people and your satisfaction is our pride. We make a point to differentiate ourselves from the competition my offer full service to both our residential and commercial customers. We handle all the work so you don't have to all at a price you can afford. Basement clean out? No problem, REO services? No problem, construction mess? No problem. Our staff is focused on customer service, if you don't smile when we roll up, you certainly will when we roll out with your unwanted clutter on the back of our trucks!
1844-Junk-Rat vs Disposal Bins
In fact we are similar to a disposal bin or dumpster in terms of what we can take as disposal – however we offer you much more value! – We are definitely less expensive and more convenient than renting a dumpster since you don't have to pay for dumpster pick up and drop off fees, no cost of disposal and the inconvenience of having to do all lifting and loading yourself. Nonetheless to say, we don't have any hidden fees and we do ALL the lifting.
1-844-JUNK-RAT

Container service companies

Yes, minimum charge

No minimum, pay one full price

All Labor Included
No labor included
On the spot removal
Take up valuable parking space
We recycle more
Often less recycling
No permit needed
City permit needed to park on Street
Volume based rates
Not Existent
We provide these Services in New Hampshire:
Junk removal
Trash removal
Attic clean out
Basement clean out
Garage clean out
Waste removal
Furniture removal
Junk pick up
Apartment clean out
Testimony:
Jade Archer, Concord, New Hampshire
This is my first time posting a review but I feel that 1844junkrat.com/ is totally worth it. For my small Junk Removal task they were really amazing- punctual, courteous, and efficient. I am relocating to overseas so I needed to get rid of quite a bit of stuff plus donate some usable items if that was possible. Things like dining table and chairs, armchair, bookcase, console table, dresser, mattress, not to mention my air conditioning units and other small debris.
I anticipated that I would have to pay quite a bit since the job was so extensive, but I was surprised with the affordable rates 1844junkrat.com/ charged. Their crew dress professionally and arrive on time, while their work ethic is completely based on quality. To make things fit better they broke down items that were to be dumped and separated those that were to be donated or recycled. I didn't have to do anything, they moved every item with ease and all I had to do was sit and direct! Great service great price, you should use them for all your projects.
Call 1844-Junk-Rat (1800-586-5787) or