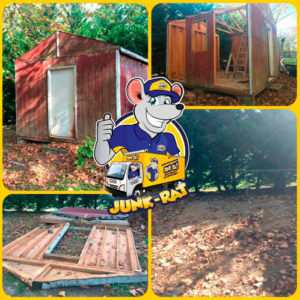 Residential & Commercial clean outs,
Junk and Rubbish Removal Services in New Mexico.
1-888-508-3964
At Junk-Rat's – junk and rubbish removal in New Mexico is made easy… because we do all of the work!
Are you stressed about how to get rid of excess waste or construction debris from your home or business? Let the professionals at Junk-Rat's handle the heavy lifting and take away your stress in the process. When you call our office to set up your junk removal, basement clean out, yard clean up, or debris removal job, we will give you a no obligation quote before we start working. We have a transparent pricing model that allows you to budget accordingly and our rates are so affordable that you won't have to worry about a job half done. When our haulers come out, we haul, load, sort, recycle and dispose of any items cluttering up your space so you can get your location back to excellence. We offer services all over New Mexico in order to maintain client's satisfaction.
Junk-Rat's vs Disposal Bins
In fact we are similar to a disposal bin or dumpster in terms of what we can take as disposal – however we offer you much more value! – We are definitely less expensive and more convenient than renting a dumpster since you don't have to pay for dumpster pick up and drop off fees, no cost of disposal and the inconvenience of having to do all lifting and loading yourself. Nonetheless to say, we don't have any hidden fees and we do ALL the lifting.
Junk-Rat's

Container service companies

Yes, minimum charge

No minimum, pay one full price

All Labor Included
No labor included
On the spot removal
Take up valuable parking space
We recycle more
Often less recycling
No permit needed
City permit needed to park on Street
Volume based rates
Not Existent
We provide these Services in New Mexico:
Junk removal
Trash removal
Attic clean out
Basement clean out
Garage clean out
Waste removal
Furniture removal
Junk pick up
Apartment clean out
Testimony:
Denise Odel, Santa Fe, New Mexico
We did a simple make-over of our kitchen last week and needed to find a company to deal with our old refrigerator. Since we used Junk-rat's / for our construction clean up project we knew from experience that they were clean, dependable and reliable. At that time we had a lot more junk though the rate was still very affordable so we decided to give them a chance with out Refrigerator Removal.
As expected, when we called their office we were greeted kindly and a time was set up for the next day. Two guys from Junk-rat's / came out, on time no less, and had the old fashioned, heavy and cumbersome fridge loaded in about 20 minutes. The cleaned up the nook the fridge had been sitting in, which is great since it hadn't been cleaned in 20 years! They really do pride themselves in their work so their motto "we are the junk people" is in line with their stellar service.
Call 1844-Junk-Rat (1-888-508-3964) or