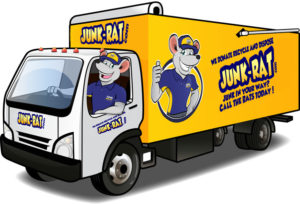 Residential & Commercial clean outs,
Junk and Rubbish Removal Services in North Dakota.
1-888-508-3964
At Junk-Rat's – junk and rubbish removal in North Dakota is made easy… because we do all of the work!
Junk-Rat's is a fast, efficient and professional waste removal service operating in  North Dakota. Our professional haulers can get rid of just about any item no matter where it is on your property. Since we do all the heavy lifting, all you have to do is point and our highly trained staff will manage all the lifting, loading, and disposing so you can focus on other things, like getting your space back to its pristine condition. We offer a range of services to serve the needs of both our business and residential clients. Services such as yard waste removal, garbage removal, appliance removal, construction debris clean up and furniture removal are just a fraction of the affordable projects we can help you complete. On top of being centered on customer satisfaction, we are also dedicated to the environment. Junk-Rat's donates useable items locally and recycles materials that qualify prior to disposing of the rest in an environmentally friendly manner. Call our office today to get started on your waste removal project.
Junk-Rat's vs Disposal Bins
In fact we are similar to a disposal bin or dumpster in terms of what we can take as disposal – however we offer you much more value! – We are definitely less expensive and more convenient than renting a dumpster since you don't have to pay for dumpster pick up and drop off fees, no cost of disposal and the inconvenience of having to do all lifting and loading yourself. Nonetheless to say, we don't have any hidden fees and we do ALL the lifting.
JUNK-RATS

Container service companies

Yes, minimum charge

No minimum, pay one full price

All Labor Included
No labor included
On the spot removal
Take up valuable parking space
We recycle more
Often less recycling
No permit needed
City permit needed to park on Street
Volume based rates
Not Existent
We provide these Services in North Dakota:
Junk removal
Trash removal
Attic clean out
Basement clean out
Garage clean out
Waste removal
Furniture removal
Junk pick up
Apartment clean out
Testimony: 
Christopher Bismarck, North Dakota
Our kids moved away for college many years ago, but we never got around to cleaning out the basement that was their hangout spot. Since the missus and I had some time, we decided to get it cleaned out and turn it into a space for ourselves. Our neighbor suggested we call Junkrat's to help since they are affordable and offer great packages on Basement Clean Out services. Judging by the amount of stuff that eventually came out, I am sure glad we did!
I called their office and explained our project, the scheduler was really nice on the phone and set up a time for several guys to come out to help us. When they showed up, exactly on time, they were ready to get down to work. My wife and I briefly explained what we needed done and they did the rest. They reconfirmed any items that were not obviously junk and made sure that we didn't lift a finger. We really appreciate that there are such dependable business in the Bismarck area and will use them again for our other junk removal tasks.
Call Junk-Rat's (1-888-508-3964) or