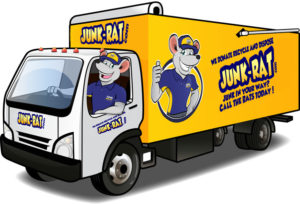 Residential & Commercial clean outs,
Junk and Rubbish Removal Services in Ohio.
1-888-508-3964
At Junk-Rat's – junk and rubbish removal in Ohio is made easy… because we do all of the work!
 Junk-Rat's offers service in Ohio and beyond. Our company offers trash hauling, junk removal, garage clean outs and other waste removal services at an affordable price. We are the junk people and pride ourselves in offering the full platter when it comes to services. We handle all the heavy lifting, pick-up, loading, cleaning and disposal of all of your junk. Being an Eco-friendly business, we also make sure to recycle as much of it a permissible to keep the environment clean. Junk-Rat's will come to your home or business and happily get rid of your junk so you don't have to. Setting up an appointment is easy, just call our office, get a simple quote and set up a time for us to come by that fits your schedule. We arrive on time and start working right away, we even make sure to clean up after the truck is loaded to ensure your complete satisfaction.
Junk-Rat's vs Disposal Bins
In fact we are similar to a disposal bin or dumpster in terms of what we can take as disposal – however we offer you much more value! – We are definitely less expensive and more convenient than renting a dumpster since you don't have to pay for dumpster pick up and drop off fees, no cost of disposal and the inconvenience of having to do all lifting and loading yourself. Nonetheless to say, we don't have any hidden fees and we do ALL the lifting.
JUNK-RATS

Container service companies

Yes, minimum charge

No minimum, pay one full price

All Labor Included
No labor included
On the spot removal
Take up valuable parking space
We recycle more
Often less recycling
No permit needed
City permit needed to park on Street
Volume based rates
Not Existent
We provide these Services in Ohio:
Junk removal
Trash removal
Attic clean out
Basement clean out
Garage clean out
Waste removal
Furniture removal
Junk pick up
Apartment clean out
Testimony:
Margot Newell, Columbus, Ohio
Our house was sold rather suddenly and we needed to get it emptied pretty quickly before we handed over the keys. There was a lot of junk, but also a lot of useable items that we simply didn't want to take to our new house. We called 1844junkrat.com/ because our real estate agent told us they were quick, affordable and experts at REO donation and recycling. She never gave us bad advice so we called.
After a quick phone conversation with the professional and kind scheduler, we had a time set up for the next day. When the trucks, yes three, came to the house we were delighted that they were on time as scheduled. The guys were professional and already knew the scope of the work so they jumped right down to it. Within a few hours the entire house was emptied, cleaned and ready for the new owners. We couldn't believe how efficient Junk-rat's haulers were! If you are looking for a dependable company look no further.
Call Junk-Rat (1-888-508-3964) or