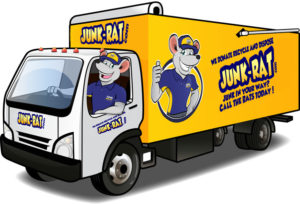 Residential & Commercial clean outs,
Junk and Rubbish Removal Services in Oklahoma.
1-888-508-3964
At Junk-Rats – junk and rubbish removal in Oklahoma is made easy… because we do all of the work!
Junk-Rat's of Oklahoma will come to your place of business or residence to get rid of all your unwanted junk at an affordable price guaranteed. We handle all the heavy lifting so all you have to do is point and offer guidance, not break a sweat. Being an eco-friendly company, we make sure to separate the items that can be recycled from the trash while loading the truck. That's only one of the reasons we are the junk people! Before you think about loading your car or truck and making numerous trips to the dump, give our trained and professional haulers here at Junk-Rat's a call. Our staff is dedicated to making sure you are completely happy, we will even clean up the area after the truck is loaded. If you need help getting junk out of your basement, yard, lot or any other area of your property, give us a call today.
Junk-Rat's vs Disposal Bins
In fact we are similar to a disposal bin or dumpster in terms of what we can take as disposal – however we offer you much more value! – We are definitely less expensive and more convenient than renting a dumpster since you don't have to pay for dumpster pick up and drop off fees, no cost of disposal and the inconvenience of having to do all lifting and loading yourself. Nonetheless to say, we don't have any hidden fees and we do ALL the lifting.
JUNK-RATS

Container service companies

Yes, minimum charge

No minimum, pay one full price

All Labor Included
No labor included
On the spot removal
Take up valuable parking space
We recycle more
Often less recycling
No permit needed
City permit needed to park on Street
Volume based rates
Not Existent
We provide these Services in Oklahoma:
Junk removal
Trash removal
Attic clean out
Basement clean out
Garage clean out
Waste removal
Furniture removal
Junk pick up
Apartment clean out
Testimony:
Daniel Wang, Oklahoma City, Oklahoma
My dad got a new car over the weekend, since the weather can get rather exciting in Oklahoma City; he wanted to keep in the garage. This may seem like common sense, and you may wonder why I am writing this- well, our garage was filled with about ten years worth of junk. On the suggestion of a few people in the neighborhood I called Junk-rat's / to set up a time for them to come by for rubbish removal. They were able to set up a time over the weekend when some one would be home which was perfect for us.
When the rubbish removal team from Junk-rat's/ came out, they surveyed the scope of the job and quietly called for a second truck. They were able to get most of the junk out before the second truck arrived, and when the second crew got started they finished up nicely, even cleaning up after they left. Junk-rat's/ really does take pride in their work despite being an affordably priced company. Great for any type of job in the Oklahoma City area regardless of your budget!
Call Junk-Rat's (1-888-508-3964) or