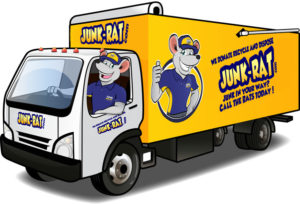 Residential & Commercial clean outs,
Junk and Rubbish Removal Services in Oregon.
1-888-508-3964
At Junk-Rat's – junk and rubbish removal in Oregon is made easy… because we do all of the work!
Junk removal services are not only for residential purposes, Junk-Rat's is happy to come to your commercial or retail location to get rid of your electronic waste, paper, or other commercial garbage that needs hauling. We truly are the pride of Oregon and offer affordable rates that defy our superior service. Since Junk-Rat's recycles a good portion of the items we haul away, you can rest assured that your waste is taken care of in a way that doesn't harm the environment. The professional junk removal specialist that visits your location will handle all the heavy lifting from the moment they arrive until the last bit of junk is placed on the truck. We work with all groups, no matter how big or small the project may be. To set up a time for our commercial junk removal project, give us a call at 1844-Junk-Rat's today.
Junk-Rat's vs Disposal Bins
In fact we are similar to a disposal bin or dumpster in terms of what we can take as disposal – however we offer you much more value! – We are definitely less expensive and more convenient than renting a dumpster since you don't have to pay for dumpster pick up and drop off fees, no cost of disposal and the inconvenience of having to do all lifting and loading yourself. Nonetheless to say, we don't have any hidden fees and we do ALL the lifting.
JUNK-RATS

Container service companies

Yes, minimum charge

No minimum, pay one full price

All Labor Included
No labor included
On the spot removal
Take up valuable parking space
We recycle more
Often less recycling
No permit needed
City permit needed to park on Street
Volume based rates
Not Existent
We provide these Services in Oregon:
Junk removal
Trash removal
Attic clean out
Basement clean out
Garage clean out
Waste removal
Furniture removal
Junk pick up
Apartment clean out
Testimony:
Judy Crow, Salem, Oregon
We had a simple weekend project that we needed to prepare for, but before that we needed to tear down the old deck and get rid of the debris. We placed a quick call into Junk-rat's to schedule a time for their Demolition Services team to come out and take care of the deck. Thankfully, we were able to secure a Friday appointment so our project would still be able to start over the weekend.
When they got out to the house, they were very polite while jumping right into the work. The tear down and junk haul took about two hours, which was much faster than we anticipated. Another great thing to note is that this company handles recycling so many of the things you trash will go back to the environment which is better for everyone. The rates are pretty affordable yet lower than most in the Salem area which makes them the perfect choice for us and for you!
Call 1844-Junk-Rat (1-888-508-3964) or