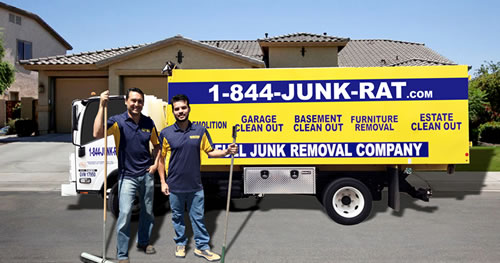 Residential & Commercial clean outs,
Junk and Rubbish Removal Services in Pennsylvania.
1800-586-5787
At 1844-Junk-Rat – junk and rubbish removal in Pennsylvania is made easy… because we do all of the work!
Residential or commercial customers looking for reliable assistance with their construction debris removal project in Pennsylvania will be served with a smile when they call 1844-Junk-Rat.com. Our company has several trucks that can handle heavy duty hauling projects so any amount of construction waste is no problem for the junk experts. We respect your space and your time, as such, our professionals will take care of all the work just in the way you want it completed. After the last items are loaded on the truck, they will even clean up the area to make sure you are satisfied. Being a green company, we sort and store items that can be recycled for proper disposal. We also offer recycling receipts for contractor's projects. The remaining items are disposed of properly and with no stress. Give our office a call at 1844-Junk-Rat.com to set up a time that fits your schedule for our trucks to come by.
1844-Junk-Rat vs Disposal Bins
In fact we are similar to a disposal bin or dumpster in terms of what we can take as disposal – however we offer you much more value! – We are definitely less expensive and more convenient than renting a dumpster since you don't have to pay for dumpster pick up and drop off fees, no cost of disposal and the inconvenience of having to do all lifting and loading yourself. Nonetheless to say, we don't have any hidden fees and we do ALL the lifting.
1-844-JUNK-RAT

Container service companies

Yes, minimum charge

No minimum, pay one full price

All Labor Included
No labor included
On the spot removal
Take up valuable parking space
We recycle more
Often less recycling
No permit needed
City permit needed to park on Street
Volume based rates
Not Existent
We provide these Services in Pennsylvania:
Junk removal
Trash removal
Attic clean out
Basement clean out
Garage clean out
Waste removal
Furniture removal
Junk pick up
Apartment clean out
Testimony:
Paul Anderson, Harrisburg, Pennsylvania
Last weekend I helped my grandparents clean out their home, and boy did I not expect the sheer amount of clutter that we would ultimately throw away. Knowing there was too much junk for the regular city trucks I decided to look for a junk service that could offer a pretty fast Garbage Removal Alternative. After a few clicks through Google, 1844junkrat.com/ popped up. I gave them a call only to be pleasantly surprised by the polite staff at the other end of the line. I explained my predicament to which they expressed understanding and set up a time up time for the very next day.
They arrived ahead of schedule and were happy to handle all the lifting. This was really important to me since I could not be there but my grandparents are too old to handle lifting. The haulers were very kind and spoke gently to them during the job and even went so far as to clean up the whole area when they were done. 1844junkrat.com/ is a great company to have on hand for those in a fixed income or just want affordable yet superior service.
Call 1844-Junk-Rat (1800-586-5787) or