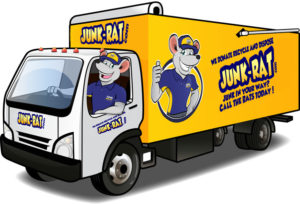 Residential & Commercial clean outs,
Junk & Furniture Removal Services in Rhode Island.
1-888-508-3964
At Junk-Rat's – junk and furniture removal in Rhode Island is made easy… because we do all of the work!
Junk-Rat's understands that along with progress come the junk of the past. We offer e-waste hauling services for schools, commercial areas, offices, residences and retail locations at a fraction of the cost of our competitors. These days, E-waste makes up a large part of most waste in the country, even more so in Rhode Island. Junk-Rat's is here to serve your needs by getting rid of all of your unwanted electronic waste in a way that's in line with good environmental practices. We donate useable items locally, and recycle materials that apply to keep the landfills clean. There is no job to big or to small, and we handle all the work for every project. When you call our office, you will get a no nonsense quote for your project before you book an appointment. Our professional hauling staff makes sure to respect your space, and will even clean up the area after the last item is loaded on the truck.
Junk-Rat's vs Dumpster
In fact we are similar to a dumpster in terms of what we can take as disposal – however we offer you much more value! – We are definitely less expensive and more convenient than renting a dumpster since you don't have to pay for dumpster pick up and drop off fees, no cost of disposal and the inconvenience of having to do all lifting and loading yourself. Nonetheless to say, we don't have any hidden fees and we do ALL the lifting.
JUNK-RATS

Container service companies

Yes, minimum charge

No minimum, pay one full price

All Labor Included
No labor included
On the spot removal
Take up valuable parking space
We recycle more
Often less recycling
No permit needed
City permit needed to park on Street
Volume based rates
Not Existent
We provide these Services in Rhode Island:
Junk removal
Trash removal
Attic clean out
Basement clean out
Garage clean out
Waste removal
Furniture removal
Junk pick up
Apartment clean out
Testimony:
Chelsea Cooper, Providence, Rhode Island
Now that we have a pair of small toddlers at home, we decided to get rid of all that easy to soil carpet in favor of hardwood. The flooring company did offer to haul away the old carpet, but at a whopping $200! On top of what we were paying for the floor it was just too much so we looked around for a reliable Carpet Removal company that fit our budget. Junk-Rat's had several good reviews from in the Providence area so we decided to call.
The kind receptionist was happy to set up a time for them to come out over the weekend which worked great with our schedule. I thought we would have to take the carpet up before they got there, but they told us that's included in the service. Great news since it would be hard to manage with two little ones! They come on time and had the while house free of old carpet in a little less than two hours. They charged WAY less than the flooring company, and still came in under many other local haulers. Very happy with the whole thing, I am sure you will be too!
Call Junk-Rat's (1-888-508-3964)
for your Free Junk Removal Estimates.