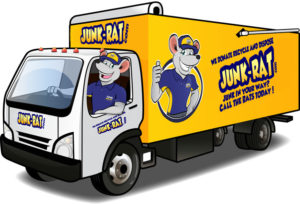 Residential & Commercial clean outs,
Junk & Furniture Removal Services in South Dakota.
1-888-508-3964
At Junk-Rat – junk and furniture removal in South Dakota is made easy… because we do all of the work!
Junk-Rat's provides affordable and Eco-friendly junk removal services in South Dakota for both residential and retail locations. Basement clean outs are handled with efficiency and easy by our respectful haulers each and every time we come out. Construction debris no matter how numerous or large are no problem for the heavy duty extra wide trucks, and we make sure to handle all the heavy lifting so you don't have to worry about getting hurt. We are the junk people and our offices are open all week to fit the various needs of our clients. To keep the local environment clean, we donate useable items, and recycle items that qualify. You will always be provided a receipt for your records and tax deductions. Calling our office at 1844-Junk-Rat.com to get a quote is easy and stress free. We never apply pressure, but rather seek to serve you with respect, superior service and of course a clean space.
Junk-Rat's vs Dumpster
In fact we are similar to a  dumpster in terms of what we can take as disposal – however we offer you much more value! – We are definitely less expensive and more convenient than renting a dumpster since you don't have to pay for dumpster pick up and drop off fees, no cost of disposal and the inconvenience of having to do all lifting and loading yourself. Nonetheless to say, we don't have any hidden fees and we do ALL the lifting.
JUNK-RATS

Container service companies

Yes, minimum charge

No minimum, pay one full price

All Labor Included
No labor included
On the spot removal
Take up valuable parking space
We recycle more
Often less recycling
No permit needed
City permit needed to park on Street
Volume based rates
Not Existent
We provide these Services in South Dakota:
Junk removal
Trash removal
Attic clean out
Basement clean out
Garage clean out
Waste removal
Furniture removal
Junk pick up
Apartment clean out
Testimony:
Leanne Syed, Pierre, South Dakota
I called Junk-rat's for a simple Yard Clean Out job since I had been doing a bit of summer cleaning on my property. The people in the office were really good about getting me a time slot that fit my schedule and seemed genuinely happy to answer the questions I had about the service. This gave me encouragement as to what to look forward to when the crew came out- and I was happy to see they delivered on my expectations.
I had several piles of organic waste as well as a couple of piles of paper waste and other debris from the yard. Unlike most companies who charge you after the work is done, I got a rate quote over the phone that was affordable and matched what the crew who came out requested. They were also nice enough to clean the area where the piles were after they loaded the truck which made my job a lot easier. Junk-rat's gets an A+ in all respects.
Call Junk-Rat's (1-888-508-3964)
for your Free Junk Removal Estimates.