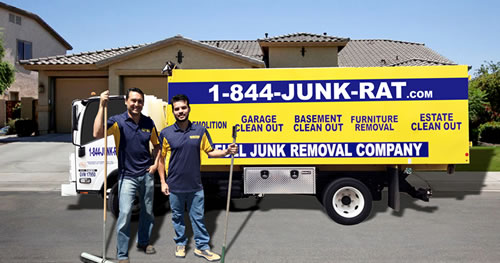 Residential & Commercial Junk and Rubbish Removal Services in Texas.
1800-586-5787
At 1844-Junk-Rat – junk and rubbish removal in Texas is made easy… because we do all of the work!
1844-Junk-Rat.com has been working with local realtors in Texas for the past several years. We handle all the hard work and they appreciate the full cart of services we offer for junk removal. 1844-Junk-Rat.com when a house or commercial property goes up for sale, we come out to clear the space of trash, old appliances, furniture, or construction debris. When our professional team comes out, we take care of all the work from hauling, sorting and loading to the clean up after the truck is loaded. Our rates are affordable, so no job is out of our range, regardless of how big or small it may be. 1844-Junk-Rat.com cares about the environment and will make sure to donate usable items locally, while recycling materials that qualify before we dispose of the trash. Setting up a time for pick up is as easy as calling our office, getting a quote, and letting us know what time works for you. Don't delay, call 1844-Junk-Rat.com today.
1844-Junk-Rat vs Disposal Bins
In fact we are similar to a disposal bin or dumpster in terms of what we can take as disposal – however we offer you much more value! – We are definitely less expensive and more convenient than renting a dumpster since you don't have to pay for dumpster pick up and drop off fees, no cost of disposal and the inconvenience of having to do all lifting and loading yourself. Nonetheless to say, we don't have any hidden fees and we do ALL the lifting.
1844-Junk-Rat

Disposal Bins

Yes, minimum charge

No minimum, pay one full price

All Labor Included
No labor included
On the spot removal
Take up valuable parking space
We recycle more
Often less recycling
No permit needed
City permit needed to park on Street
Volume based rates
Not Existent
We provide these Services in Texas:
Junk removal
Trash removal
Attic clean out
Basement clean out
Garage clean out
Waste removal
Furniture removal
Junk pick up
Apartment clean out
Testimony:
Libby Meeks, Austin, Texas
The family and I recently decided to move from the Austin area, as part of the moving preparation, we needed to think about Appliance Removal for some of our older items.
We phoned them on a Saturday afternoon and the receptionist was sweet enough to make a quick appointment for pick up the next day. The 1844junkrat.com/ appliance removal guys got here about fifteen minutes early and had all of our old appliances loaded in the truck in less than 40 minutes.
After they were done, being courteous the whole time mind you, they also swept the area to make sure their workspace was clean before they left. Ensuring that we were totally satisfied was their obvious priority which means a lot these days. I wholeheartedly recommend their services to you or any of my family and friends.
Call 1844-Junk-Rat (1800-586-5787 ) or
Visit our pricing page for details.