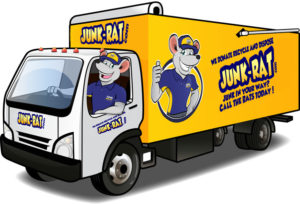 Residential & Commercial clean outs,
Junk and Rubbish Removal Services in Utah.
1-888-508-3964
At Junk-Rat's – junk and rubbish removal in Utah is made easy… because we do all of the work!
Junk-Rat's understands that being environmentally friendly when disposing of your commercial waste is important to your business image. Our highly trained professionals can work with you to assess the streams from which your waste initiates and formulate a junk hauling and recycling plan that works for you. In Utah, we are the junk people and take pride in our customer satisfaction. Our rates are affordable, and we go above and beyond to ensure you are satisfied. When our staff arrive, all you have to do is direct us to the area your junk is stored, we will do all of the work, heavy lifting and sorting so your time can be spent organizing the space you always wanted. Scheduling with Junk-Rat's is done in a way that fits your schedule so your experience will truly be stress free.
Junk-Rat's vs Disposal Bins
In fact we are similar to a disposal bin or dumpster in terms of what we can take as disposal – however we offer you much more value! – We are definitely less expensive and more convenient than renting a dumpster since you don't have to pay for dumpster pick up and drop off fees, no cost of disposal and the inconvenience of having to do all lifting and loading yourself. Nonetheless to say, we don't have any hidden fees and we do ALL the lifting.
JUNK-RATS

Container service companies

Yes, minimum charge

No minimum, pay one full price

All Labor Included
No labor included
On the spot removal
Take up valuable parking space
We recycle more
Often less recycling
No permit needed
City permit needed to park on Street
Volume based rates
Not Existent
We provide these Services in Utah:
Junk removal
Trash removal
Attic clean out
Basement clean out
Garage clean out
Waste removal
Furniture removal
Junk pick up
Apartment clean out
Testimony:
Edward Cunningham, Salt Lake City, Utah
Have you ever upgraded a old computer lab? Well let me tell you cleaning up is no easy task. Knowing the issues of trashing old electronics in mass, we looked to Junk-rat's to help us with a large scale Computer Recycling project. Contacting their office was easy, unlike many companies; the person on the other end was able to speak with me at length to understand the scope of my project so that there would be enough people on hand.
The professionally dressed and polite crew arrived to the lab on time, happy, and well prepared for the Computer Recycling task at hand. Over the space of three hours, the Junk-rat's guys organized, removed and sorted all the electronic for later recycling. I though the job would cost a pretty penny so I was really happy when were charged a moderate but very affordable rate for the task. Great company, I see nothing but good things for them in the future.
Call Junk-Rat's (1-888-508-3964)