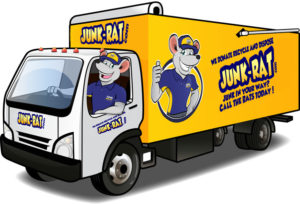 Residential & Commercial clean outs,
Junk & Furniture Removal Services in Vermont.
1-888-508-3964
At Junk-Rat's – junk and furniture removal in Vermont is made easy… because we do all of the work!
Private residents, commercial enterprises, and councils lean towards green waste disposal solutions as the levels of waste rise in the Vermont community.  Junk-Rat's takes pride in understanding how to serve our clients by offering affordable solutions to help manage the cost of waste disposal and by offering sound services that encourage sustainable disposable management. Though affordable, our skilled workers handle all the heavy lifting from the moment they arrive until the last piece of waste has been disposed of. After load cleaning is standard with every project at no extra cost. To find out more about our affordable, professional services, get in touch with us here at Junk-Rat's for a no obligation consultation for your waste management project.
Junk-Rat's vs Dumpster
In fact we are similar to a  dumpster in terms of what we can take as disposal – however we offer you much more value! – We are definitely less expensive and more convenient than renting a dumpster since you don't have to pay for dumpster pick up and drop off fees, no cost of disposal and the inconvenience of having to do all lifting and loading yourself. Nonetheless to say, we don't have any hidden fees and we do ALL the lifting.
JUNK-RAT'S

Container service companies

Yes, minimum charge

No minimum, pay one full price

All Labor Included
No labor included
On the spot removal
Take up valuable parking space
We recycle more
Often less recycling
No permit needed
City permit needed to park on Street
Volume based rates
Not Existent
We provide these Services in Vermont:
Junk removal
Trash removal
Attic clean out
Basement clean out
Garage clean out
Waste removal
Furniture removal
Junk pick up
Apartment clean out
Testimony:
Kayla Lozano, Burlington, Vermont
Mattress, mattresses, mattresses…..the disposal of which is the bane of any household. Thankfully I called the people over at Junk-rat's to help me dispose of mine. As a disabled person, moving a mattress down two flights of stairs and loading on a truck isn't really possible. The company advertises that they do all the lifting, which they really mean. When the junk removal truck got here, on time, all I had to do was sit tight point to where the mattresses were and wait for them to finish loading. That simple, that quick, the whole experience took about 25 minutes from start to finish.
You might think such service comes with a huge price-tag, but 1844junkrat.com/ is really affordable even for people on a fixed income like me. I wholly recommend their service to anyone in the Burlington area as well as any other areas they may have offices.
Call Junk-Rat's (1-888-508-3964)