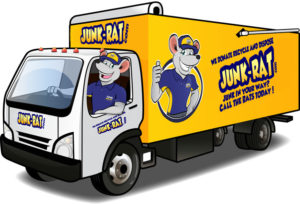 Residential & Commercial clean outs,
Junk and Rubbish Removal Services in West Virginia.
1-888-508-3964
At Junk-Rat's – junk and rubbish removal in West Virginia is made easy… because we do all of the work!
Junk-Rat's of West Virginia understands that businesses and private home owners are interested in being responsible stewards of the environment while also removing extra waste from the premises.  Our services are affordable to meet the needs of every type of client. We are the pride of the area, and being the junk people we make a point to ensure your complete satisfaction. We take care of all the heavy lifting so you don't have to. Yard clean ups, basement clean outs, construction debris removal and even REO projects are no problem for our team of highly trained hauling staff. We make sure to arrive on time so your schedule is not negatively affected. When we are done, we make sure to clean the haul site as part of our standard operating procedure. If you are ready to take back control of your space and get rid of unwanted clutter, call 1844-Junk-Rat.com today.
Junk-Rat's vs Dumpster
In fact we are similar to a dumpster in terms of what we can take as disposal – however we offer you much more value! – We are definitely less expensive and more convenient than renting a dumpster since you don't have to pay for dumpster pick up and drop off fees, no cost of disposal and the inconvenience of having to do all lifting and loading yourself. Nonetheless to say, we don't have any hidden fees and we do ALL the lifting.
JUNK-RAT'S

Container service companies

Yes, minimum charge

No minimum, pay one full price

All Labor Included
No labor included
On the spot removal
Take up valuable parking space
We recycle more
Often less recycling
No permit needed
City permit needed to park on Street
Volume based rates
Not Existent
We provide these Services in West Virginia:
Junk removal
Trash removal
Attic clean out
Basement clean out
Garage clean out
Waste removal
Furniture removal
Junk pick up
Apartment clean out
Testimony:
Ronald Rosado, Charleston, West Virginia
Looking for an amazing company? Junk-rat's really fits the bill. I had a last minute need for Furniture Removal and called them on the fly. Setting up the time for pick up was pretty quick, and the time slots were short unlike some companies who make you sit at home all day. They made it to my place a few minutes early and only took about twenty minutes to gather all the old carpet and three sofas I had for pickup. The loaders were very kind and respectful the whole time they were there and charged much less than what I anticipated.
One thing I should mention that I didn't expect is their after removal clean up service and recycling. They swept the area to get rid of the dander that follows old junk and informed me some of the junk loaded is recyclable. Very awesome.
Call Junk-Rat's (1-888-508-3964)
for your Free Junk Removal Estimates