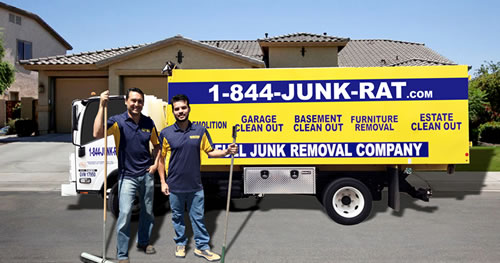 Residential & Commercial clean outs,
Junk and Rubbish Removal Services in Washington.
1800-586-5787
At 1844-Junk-Rat – junk and rubbish removal in Washington is made easy… because we do all of the work!
1844-Junk-Rat.com is a fully integrated recycling and disposal company in Washington. We are the junk people and pride ourselves in the ability to meet the needs of industrial, HOA, residential, commercial and retail clients. 1844-Junk-Rat.com is able to offer a range of waste removal, and junk collection services which include commercial junk removal, recycling, composting, basement clean outs and so much more. Our services are affordable so both residential and commercial clients can avail our services. We handle all of the hard work by taking care of the loading, sorting, and disposal while you direct our efforts. Setting up a time for us to come out is easy; simply call our office to speak with one of our courteous staff. You will get a quote before we come out, and there is never any pressure so you can rest easy.
1844-Junk-Rat vs Disposal Bins
In fact we are similar to a disposal bin or dumpster in terms of what we can take as disposal – however we offer you much more value! – We are definitely less expensive and more convenient than renting a dumpster since you don't have to pay for dumpster pick up and drop off fees, no cost of disposal and the inconvenience of having to do all lifting and loading yourself. Nonetheless to say, we don't have any hidden fees and we do ALL the lifting.
1-844-JUNK-RAT

Container service companies

Yes, minimum charge

No minimum, pay one full price

All Labor Included
No labor included
On the spot removal
Take up valuable parking space
We recycle more
Often less recycling
No permit needed
City permit needed to park on Street
Volume based rates
Not Existent
We provide these Services in Washington:
Junk removal
Trash removal
Attic clean out
Basement clean out
Garage clean out
Waste removal
Furniture removal
Junk pick up
Apartment clean out
Testimony:
Melissa Helms, Olympia, Washington
I called this company today for Garage Clean Out and the person who answered the phone set up a quick appointment for the very next day. They gave me a quote over the phone that I thought to be pretty affordable. When they came out to my house, the 1844junkrat.com/ crew professionally sorted and stored all the junk in my garage, plus a few other items I happened to throw on the pile.
While they were loading my junk, they separated the electronics and solid metal pieces for eco-friendly recycling which is the first I have seen. Their overall service is great; they do all the work for you and clean up when they are done. I never realized such a great company like 1844junkrat.com/ was hiding in the Olympia area. A professional company with a true local feel.
Call 1844-Junk-Rat (1800-586-5787) or