Do you have many appliances around the house that you no longer need?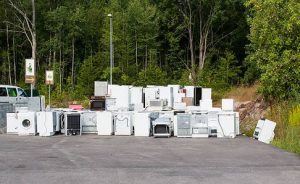 It's stressful to have old, broken down and unused appliances gathering dust and occupying space within your home. Should you find yourself in such a situation, our appliance removal is the best bet for you. Getting rid of appliances can be a daunting task especially if you no idea what you should do. Over the years, we've been able to serve residents with quality removal services which has enabled us to be well respected across.
Appliances are not easy to remove because some of them are bulky, fragile and difficult to move. For this reason, it is wise to call a professional appliance removal company 1-844-JUNK-RAT. We provide safe, efficient and Eco-friendly appliance removal so you don't need to worry about the removal, pick up and disposal of your old items. In addition, we ensure our appliance hauling team transports your old appliances to the right location.
If your appliances are still in good condition, we can donate them to various charities. We make sure that we give your appliances to charities or recycling centers. Because we care for the environment, our appliance removal items are disposed using an Eco-friendly approach.
We are only a phone call away so you don't need to get overwhelmed when our hoarder clean up local service is waiting to sort you out. Appliance removal local allows recycling of appliances whose parts can be salvaged. We ensure any recycling is done by professionals and meets the stipulated New Jersey regulations. On the other hand, if your appliance is still in a good working condition, we have a donation pick up local program that distributes items to various New Jersey charities. Our appliance removal local reputation is well known across the state.
Fortunately, appliance recycling local will not be a problem when you hire professionals for the project. With the appliance removal local services by 1-844 Junk Rat, you do not have to fret about how to take the fridge or the huge washer out of your home and into the curb for pick up. Finding a New Jersey recycling facility that will take the item will also be part of the appliance removal local services we provide.
Why do you have to concern yourself with proper appliance disposal?
Leaving your old household items in a landfill could be harmful for the environment. Ozone-depleting chemicals might leak. Plus, there are still some usable items from your old fridge, television or oven, for instance.
Junk Rat provides appliance removal services in New Jersey and we are keen on following the correct practices when it comes to proper waste disposal. We drop off appliances to one of our New Jersey partner organizations for donation. Some items we collect while providing appliance removal local services end up in a recycling facility.
By doing business with us, you will have access to quick and efficient services in New Jersey while helping the environment.
Many people in New Jersey end up hoarding appliances because of being unable to find an appropriate and affordable appliance removal local team. As a result of being a top-rated service, many clients have full trust in our competence and level of service delivery. At 1-844-Junk-Rat, every client matter, so whether you want only one appliance removed or you have a room full of appliances that needs to be removed, our staff will work to your satisfaction. Our appliance removal local team is well equipped and trained to remove both small and large heavy appliances within the shortest time possible.