You want to exercise but your gym equipment is old, worn out and not functioning?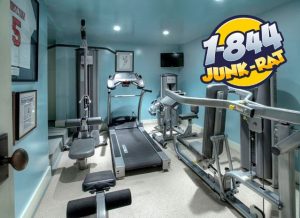 It's time to get rid of it immediately! Aside from the inconvenience of keeping old gym equipment, it also takes up a lot of space. We have the best gym exercise equipment removal service that focuses on helping our clients get rid of unwanted gym equipment within the shortest time possible. We're dedicated to ensuring that you don't get stressed about old gym equipment that is no longer useful to you. Whether it's a treadmill removal, exercise bike removal, or cardio equipment removal, we'll get rid of it right away! nothing is impossible for us.
Once our gym exercise equipment removal team arrives, we'll get rid of all your home gym equipment that you no longer need, along with any other associated junk that doesn't allow you to enjoy your space. After removing the gym equipment, our workout equipment removal team will then load everything onto our truck for disposal. Our reputation is unmatched and clients firmly believe in our capability to offer quality services, despite the nature of the project. Our gym exercise equipment removal personnel are trained and skilled to handle both large and small exercise equipment. We use the best and safe techniques to ensure that we don't cause damage to your property and work efficiently to cause minimal disruption.
Don't get stressed trying to move gym exercise equipment on your own, talk to us today for the best quotes in New Jersey.
What happens when the ab-master you bought a few months ago fails and can no longer be salvaged? What of the treadmill is just sitting around useless in the corner? Rather than leaving these items inside your home, why don't you go for gym exercise equipment removal local?
What does this service entail and why should you call a compact providing trash removal local?
You want to get rid of useless equipment or make room for a new one, you can do gym exercise equipment removal local by yourself. You have to carry all the items, perhaps with someone else's help, and look for a dumpsite or New Jersey recycling facility which accepts gym equipment. The entire process can be lengthy, and it will require some time investment. To skip all those steps, enjoy more space at home or simply arrange the new equipment you ordered, look for a compact providing weight equipment removal local. Of course, they will also take care of cardio equipment removal local and other items in your exercise room.
Whether you require gym exercise equipment removal from a residential unit or a business space in New Jersey, 1-844 Junk Rat will have you covered. We are a local New Jersey compact providing gym exercise equipment removal local.
Leave all the heavy lifting to our estate clean out local crew and simply supervise the process. You don't have to shop for the best facility for donation pick up local, we will also help you with that.
Just because we are a gym exercise equipment removal local compact doesn't mean that we won't sort items for donation and recycling. In fact, we have donation partners in New Jersey and we know the right places to drop off your old gym equipment. Next time you help with gym exercise equipment removal local, call up Junk Rat, and see just how affordable our New Jersey service can be.