There are various reasons why you would want to get rid of your deck. For starters, it may be because you want to replace the old deck with a new one or put a concrete slab. Whichever the case is, you need a professional deck removal company to assist you with this task. We're a top deck removal service with an excellent reputation among residents. We've been in the industry for long and have obtained extensive experience thanks to working on diverse projects. No deck demolition project is too big for us. We can comfortably remove various types of decks irrespective of the materials used during construction.
Removing a deck on your own can be time consuming, stressful and cause a lot of discomfort due to the lack of skills, experience and equipment for the job. On the other hand, we have a diverse deck removal team with various backgrounds working together to carefully remove your deck. We offer the most affordable deck removal cost and for this reason, many clients enjoy using our services.
Our deck removal local services believes in the need to keep the environment clean. For this reason, we organize to dispose and recycle items in accordance to the laid down New Jersey regulations.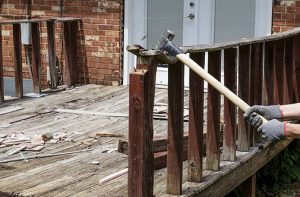 When it comes to deck demolition, it would be easier to hire the right people to help you with the project.
Our friendly, uniformed team is highly experienced and is capable of demolishing your deck in the shortest time possible. It doesn't matter the kind of materials you used to build your New Jersey deck, we have the latest deck removal local equipment and tools to deal with any kind of deck. During the removal, we adhere to the highest standards of workmanship and safety to avoid causing any type of damage to any other part of your house and/or property.