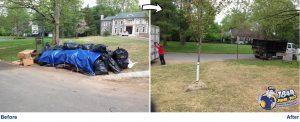 We all wish to have a beautiful yard in our homes. However, this dream becomes nightmare when your yard is filled with ugly looking clutter. Yard waste removal can be an exercise in futility especially if you have no rubbish removal experience. Most people find themselves unknowingly accumulating waste in their yards over a period of time. However, our yard waste disposal team is here to help you sort this problem once and for all. We're the best, most trusted and reputable junk removal company with an excellent track record of service delivery. We offer superior yard waste removal services for our clients across.
Do you want to have a beautiful and picturesque yard?
Well, talk to us today for the best yard waste removal local services. At times, when junk accumulates in your yard, it becomes challenging to remove it. Many people unsuccessfully attempt to remove trash from their New Jersey properties because they lack skills, equipment and manpower to do the job. A lot of people find themselves unknowingly accumulating unwanted items in their yards and this is where our yard waste disposal local team comes in to help. We understand how an untidy yard is inconveniencing so we marshal our rubbish removal local troops to come to your rescue. Since our establishment, we've helped numerous New Jersey households and businesses clear out their yards and restore their original neat look.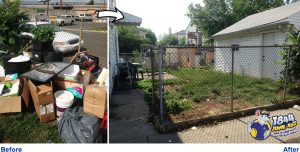 Cleaning up the yard is probably one of the activities. Of course, tidying up the yard is a useful activity. Unfortunately, there are some drawbacks especially when you're done with everything.
What will you do to get rid of the yard waste?
If you're looking for a professional removal company to clear your yard, call us today and let us help you reclaim your yard!