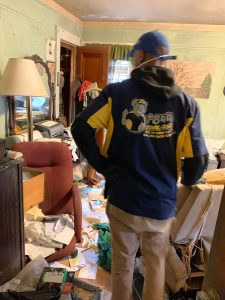 Hoarding is unfortunate and can seriously affect your personal life and well being. At 1-844-JUNK-RAT, we focus on offering hoarding clean up to help restore lives and properties of our clients. Dealing with a home affected by hoarding is one of the most challenging and time-consuming jobs. Because of the complexities involved, only reputable hoarding clean up companies can offer professional services for various kinds of clients. Our service extends beyond junk removal to a specialized and sensitive service. Whether it is a residential or commercial hoarding clean up service, it is critical to entrust the job to experts who understand what is expected of them.
When you use our services, we will handle your job professionally, discreetly, thoroughly and quickly to ensure the best results are achieved. Hoarding is a social problem and we do our work in a professional way that enhances your privacy and saves you from unnecessary embarrassment. Our hoarding clean up service has helped recover properties which had been neglected for many years. We're proud of our achievements because we've helped many residents get their lives back once again.
It doesn't matter how serious your hoarding is, whether you've been accumulating stuff for only a few months or years, we have the capability to handle any kind of hoarding trash local project. We do not take any customer's call for help for hoarding clean up local for granted because we know how urgent it is to reclaim your home or property back. For this reason, we're always on standby to promptly respond to any requests for hoarding cleanup services local. Should there be any items that need to be donated, our junk removal local team will make arrangement and send your items to various charity organizations around New Jersey. On the other hand, we ensure all other items are properly disposed in a bid to conserve the environment.