Do you have a serious hoarding problem?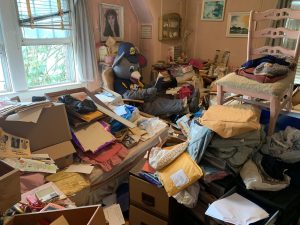 Our hoarder clean out team will help you. Many residents are living in uninhabitable conditions because of hoarding. Having offered professional hoarder clean out services, we understand how hard it is for you and therefore, we treat you with dignity and respect. We have been serving the residents for a long time.
We top hoarder clean out companies in New Jersey and perfectly understand your situation. Whether it's you or loved one, our hoarder house clean out local staff will assist you to become hoarder free in no time. It doesn't matter where you are located because our affordable hoarder clean out cost local services cover Manhattan, Queens, the Bronx, Staten Island, Westchester County and Long Island among others. Hoarder clean out local sees to it that we take out everything that you've been keeping for a long time and no longer need.
Before beginning our work, we come to your site and assess the extent of the problem. Based on our preliminary findings, we then come up with a custom process of hoarder clean out local. Depending on your requirements, we shall either remove a single item or clear out your entire house or storage space. So long as our estate clean out local team is on site, you can sit back and watch as we embark on a thorough clutter removal local process.
Our professional New Jersey staff is well trained and equipped to handle any kind of emergencies. We clean out houses, garages, stores, basements, attics and apartments among others. Our hoarder clean out local service is stress-free and confidential allowing you the privacy you need at this time. In case you have any hoarder clean out local items that need to be disposed, we shall do so according to local New Jersey environmental regulations.