Are you fed up with your that old, worn out, and shabby shed in your backyard?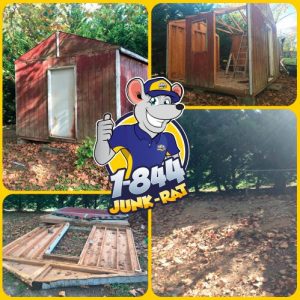 If you're eager to get rid your shed, we're the best shed demolition that will guarantee you a great job with impressive results. Our shed removal crew is always on standby to attend to your requests. We'll promptly come to your property irrespective of your location. Given our extensive experience and industry reputation, we can comfortably take care of all your shed removal needs.
Our well trained, experienced and friendly guys will demolish your shed in no time! However, before our shed demolition crew begins working, we empty any important items that may have been stored inside the shed. Items that are no longer needed are taken out by our junk removal crew for disposal or recycling. Whether you have a wooden, metallic or plastic shed, we will take it down for you. Our services have continued to become popular across because we offer a pocket friendly shed demolition cost compared to many of our competitors.
We demolish all types of New Jersey sheds and our team is familiar with wooden, plastic and old metal shed local demolition among other types of sheds. If you're looking for trusted shed removal near me local companies, look no further than 1-844-Junk-Rat. Do not keep unused sheds on your property because they are a perfect habitat for pests and insects. Instead, enjoy our unbelievably low shed demolition cost local services to quickly get rid of your shed.
If you've been looking for a reputable shed demolition local firm, your search ends here with us!
Having a shed at your New Jersey home is convenient, just imagine all the things you can store in it. In fact, many homeowners love having a shed because of how convenient it is. Unfortunately, when the shed becomes worn down, shed demolition local becomes a necessity.
When you live in New Jersey, shed demolition local services is not enough. You also need to look for trash removal local services.  If you can't do the job on your own or you just don't have the time to do it, call up 1-844-Junk-Rat.